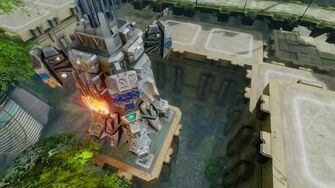 Tower Defense

Fullscreen and Windowed.
Windowed does not work properly when Windows DPI have been altered above 100 %.
Controls are customizable for keys and gamepad
Mouse Arrow will be captured.
Mouse and Keyboard needed.
Mouse Wheel for zooming.
OSK cannot be accesses.
Enable Viacam Headmouse movement and clicks do work.
Clickwindow of Enable Viacam Headmous cannot be accessed in fullscreen. Clicking the buttons of the main Menu is not working properly. I don't know what is the exact problem but it seems that the mouseover is not registering correctly. Clicking only works while the button is highlighted and because the highlighting itself uses a Enable Viacam click so in order to click the highliged button the mouse must be moved which in turn unregisters the mouseover effect. Therefore the game can't be started by Enable Viacam Headmouse.
Subtitles and Closed captions.
Fonts are rather small and thin. Not good to read.